We are exporter and supplier of good quality Galvanized Steel Wire Strands, known as Core Wires for cables and various industrial uses.
We have:
Complete quality control system;
Experienced technical staff;
Selected materials: Low carbon, medium carbon and high carbon steel wire.
Structures: 1*3/1*7/1*19/1*37
Main Types:
Optical cable core wire
Galvanized steel wire strand for ACSR
Galfan Wire for ACSS
BS 183- Galvanized Stay Wire
ASTM A 475 Galvanized Steel Wire
1*3/1*7/1*19/1*37 stranded earth wire
Power cable transmission lines ACR ACSR ACSS type wire
OPGW Galvanized Steel Ground Wire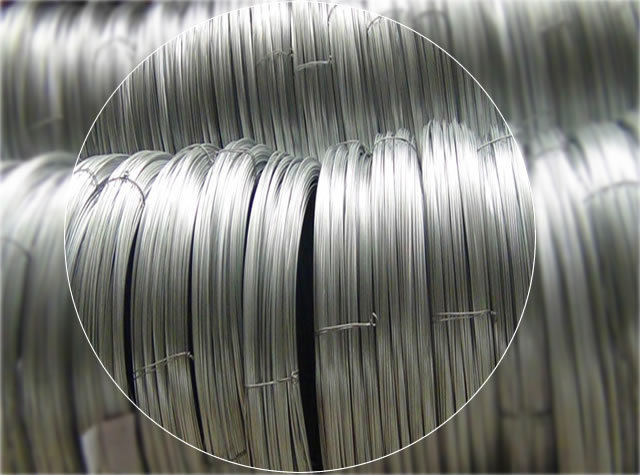 Material: Zinc coated galv. steel wire for optical ground wire ( OPGW ) coring.
Resistivity :Typical value of galvanized steel wire is 0,19157 Ωmm² /m.
Torsion Test : The specimen shall be twisted untill fracture occurs by applying for not exceeding 2% of the breaking strength.
The rate of twisting shall not exceed than 60 rev/min.
Zinc coating mass requirements
| | |
| --- | --- |
| wire diameter mm. | min.mass of zinc coating g/m² class 1 |
| 1,24 < 1,50 | 200 |
| 1,50 < 1,75 | 215 |
| 1,75 < 2,25 | 230 |
| 2,25 < 3,00 | 245 |
| 3,00 < 3,50 | 260 |
| 3,50 < 4,25 | 275 |
| 4,25 < 4,75 | 290 |
| 4,75 < 5,50 | 305 |
Mechanical properties,torsion twist requirements and wrap test mandrel diameter for extra high strength steel wires
Nominal wire diameter mm.
Diameter tolerance
min.stress at 1% extansion Mpa
min.ultimate tensile stress Mpa
min.ultimate elongation %
Mandrel dia.for wrapping test (x.OD)
min.number of twist in torsion test
Class 1 zinc coating
1,24 < 2,25
+/- 0,03
1470
1670
3,0
4
18
2,25 < 2,75
+/- 0,04
1473
1630
3,0
4
18
2,75 < 3,00
+/- 0,05
1430
1630
3,5
5
16
3,00 < 3,50
+/- 0,05
1400
1600
4,0
5
16
3,50 < 4,25
+/- 0,06
1360
1570
3,5
5
14
4,25 < 4,75
+/- 0,06
1360
1570
3,5
5
14
4,75 < 5,50
+/- 0,07
1290
1550
3,5
5
14
Initial stress and extensometer setting for determination of stress 1% extension
| | | |
| --- | --- | --- |
| Actual diameter mm. | Initial stress Mpa | Initial setting of extensometer ( gauge length 250 mm.) |
| 1,24 < 2,25 | 100 | 0,125 |
| 2,25 < 3,00 | 200 | 0,250 |
| 3,00 < 4,75 | 300 | 0,375 |
| 4,75 < 5,50 | 400 | 0,500 |
Hot Dip Galvanized Steel Wire For ACSR Coring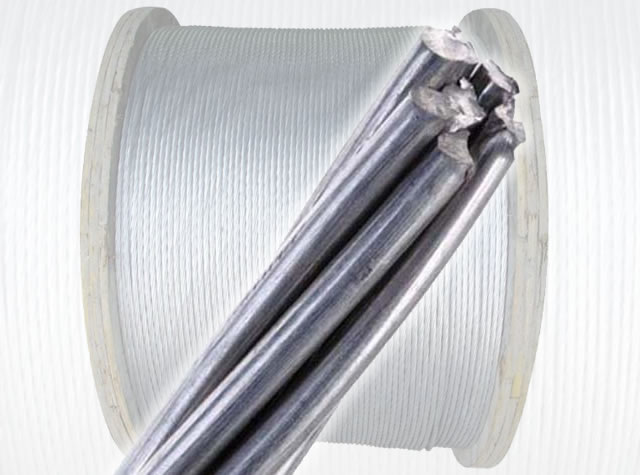 Material: Hot Dipped Steel Stranded Wire
Application: Stay wire, steel core for ACSR, guy wires.
Specification:1×7-3.00-12.6mm, 1×19-5.00-16.00mm
Specification:
Number
of
wires
in
strand
Stee
wire
diameter
mm
Norminal
diameter
of the
strand
mm
The cross
section
area of
strand
mm2
Nominal tensile streng of Gal.steel wire Mpa
Approximate
Weight
of stand
per
Kg/100M
1175
1270
1370
1470
1570
Breaking strength of strand KN≥
1×7
1.60
4.8
14.07
16.53
17.87
19.28
20.68
22.09
11.17
1.80
5.4
17.81
20.93
22.62
24.40
26.18
27.96
14.14
2.00
6.0
21.99
25.84
27.93
30.13
32.32
34.52
17.46
2.20
6.6
26.60
31.26
33.78
36.44
39.10
41.76
22.77
2.30
6.9
29.08
34.17
36.93
39.84
42.75
45.66
23.09
2.60
7.8
37.17
43.60
47.20
50.92
54.63
58.30
29.51
2.90
8.7
46.24
54.33
58.72
63.36
67.97
72.60
36.71
3.00
9.0
49.48
58.14
62.84
67.79
72.74
77.68
42.38
3.20
9.6
56.30
66.15
71.50
77.13
82.76
88.39
44.70
3.50
10.5
67.35
79.14
85.85
92.27
99.00
105.74
53.48
3.80
11.4
79.39
93.28
100.82
108.76
116.70
124.64
63.04
Number
of
wires
in
strand
Stee
wire
diameter
mm
Norminal
diameter
of the
strand
mm
The cross
section
area of
strand
mm2
Nominal tensile streng of Gal.steel wire Mpa
Approximate
Weight
of stand
per
Kg/100M
1175
1270
1370
1470
1570
Breaking strength of strand KN≥
1×19
1.60
8.0
38.2
44.88
48.51
52.38
56.15
59.97
30.40
1.80
9.0
48.35
56.81
61.40
66.24
71.07
75.91
38.49
2.00
10.0
59.69
70.14
75.81
81.77
87.74
93.71
47.51
2.20
11.6
72.22
84.86
91.71
98.94
106.16
113.39
56.69
2.30
11.5
78.94
92.75
100.25
108.15
116.04
123.94
62.84
2.60
13.0
100.88
118.53
125.12
138.20
148.29
158.38
80.30
2.90
14.5
125.50
147.46
159.38
171.93
184.48
197.03
99.90
3.00
15.0
134.30
157.80
170.56
183.99
197.42
210.85
105.43
3.20
16.0
152.81
179.55
194.06
209.35
224.63
239.91
121.64